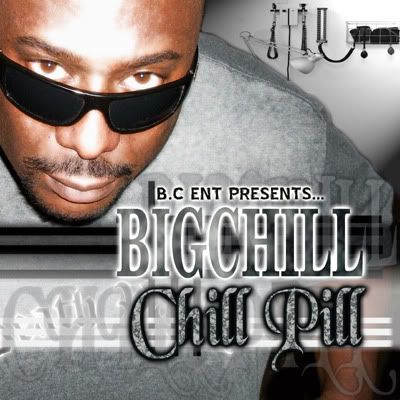 The only work I had heard from Big Chill in the past was on some comedy shit and while being entertaining and creative was nothing I'd listen to over and over again years down the road.
You cant judge a book by its cover, a movie by its trailer or an album by its cover these days. Some of the best foreign movies Ive seen have had weak covers or a bad trailer, but ended up being fantastic. This is the same deal with Chill Pill, when I saw the cover I wasn't sure if this would be more comedy stuff from Chill or a serious rap album. But the songs on here are nearly all extremely well made and a bunch of them will be getting play all this summer.
Wiggle is on some old school mob shit and works very well as Big Chill rides the slappin beat perfectly and reminded me of some old school Celly Cel or The Click music.
Crazy B is a track that I'm sure every male who been smashing for a minute can relate to. Its about crazy bitches and is not only a real life type of track but its got some comedy thrown in there as well as Chill raps about them Crazy Beeezies out there. Good storytelling, some humor in there and another solid beat.
Westcoast Retro is one of my favorites on Chill Pill as Big Chill slides thru to bring this westcoast rap music back to its roots. The production on here is nothing to crazy or complex but it fits this track perfectly, and the hook is on some classic shit aswell. Roll up some Kush or Hemp Star and bump this during a summer BBQ and im sure some of the old school west coast fans will be asking "Who is this? This shit go!".
Imagination is another great track that really shows Big Chills storytelling abilitys, over a relaxing chill beat. To me this track is some westcoast shit mixed with some Slick Rick type of storytelling, as Big Chill takes you along with some of his dreams, as his imagination run wild. For some reason I could see this song on a modern day Boyz N The Hood movie, would be perfect.
It Iz Chill really brings me back to the days when westcoast rappers would made enjoyable party songs. Entertaining production and Big Chill spittin good lyrics that people can vibe to, without selling out on some played out radio friendly Auto-Tune bullshit. Seriously, go make yourself a Gin n Tonic or what ever you drink and put some Ribs on the BBQ, light up a fatty and bump this song as loud as you can.
Murderers Row is totally differnt then the rest of the album and the songs before it. This song is on some crazy ass mobb shit, mixed with some Brotha Lynch flavor. Its tracks like this that show Big Chills versatile writing and talent. The beat is hard as a mothafucka and the lyrics are just as hard. Never been a huge fan of horrorcore music (other then Lynch and Mars), but
this track here is on some sick shit and I gotta admit I love it. A few tracks ago Chill was rippin apart some summer time chill tracks, now this track is on some Murder tip, but still done very well with storytelling at its best. Definatly one of the real highlights of the album for me personally, just straight heat.
Ohh Chill will have you starting up the BBQ or rollin up a spliff and then putting the song on repeat. What makes this song dope to me is that it sounds like a remake, but its got its own style and feel to it. Just do yourself a favor and check this song out, straight classic to me personally. Another good beat and great lyrics from Big Chill and the hook? Lets just say
that it will have you singing it for days to come "Ohhh Ohhh chill things are gonna get easyier, ohhh ohhh chill things are gonna get brighter". Alot of the time when rappers try to redo a really dope track it doesnt seem to do the original justice, but Chill did his thang on here.
House Party is another chill track that will take you back to the 90's type of westcoast party vibe. Once again its another song that would be perfect playing at a house party in the summer, layed back beat with Big Chill doing the damn thang.
The whole album is dope and I reccomend people give it a chance, there is something here for everyone. There really are no bad songs on here, IDGAF is the only track that could be better to me and its a bonus song, so its all good. Big Chill really brought his A game on this album and I hope it does well.
Big Chill did all the production on here which is pretty impressive to me for one person to do all these differnt kinds of beats. Not only is this dude spittin dope lyrics with an addicting flow, but he can produce some dope ass shit aswell! Not full of features to help him out, its all Big Chill on here and thats whats so impressive with this album to me.
Tracks like Westcoast Retro, Murderers Row and Ohh Chill are tracks I'll be bumping not only all summer but for years to come. I would have liked maybe one or two more of the crazy hardcore tracks like Murderers Row but in the end thats just personal preference. The production is on point for the most part, the recording quality sounds good, Big Chill's flow and writing ability is top notch and he really ahs managed to take it back to a time when westcoast music was at its best.
You remember when party/radio songs where not cheesy and gay as fuck? But instead well made tracks with dope production and lyrics that you could have playing at a BBQ or party? Well Big Chill has brought that shit back with Chill Pill. I think old school fans will really enjoy this record right here, anyone born in the 80's or 70's will want to cop this. Might be to 'old school' for some of these young kids, but for me personally this is quality project that brings me back.
SCORE: 9/10